Thanks to volunteers!
(05.12.2023)
On this special day we would like to thank everyone who helps us practice our hobby every day. In addition to competing, they also ensure that we can soak up the atmosphere abroad. All volunteers at REFEX are busy every day planning tournaments, maintaining contacts and preparing trips. Thanks to all the volunteers, we cannot only compete, but also make the best friendships in life. Because that's what it's all about. Every volunteer at REFEX does it for you, for us. Today is their holiday - Happy International Volunteer Day!
Staff meeting Oct '23
(24.11.2023)
Every year a physical meeting of our staff takes place in a different place in the world. Last year it took place in Antwerp, this year in October everyone was invited to beautiful Łódź in Poland. Our home for that weekend was the
ibis Lodz Centrum
(hanks for the fantastic hospitality!). On Friday everyone arrived at a different time and an optional dinner followed for those already present. The conference took place on Saturday. The staff discussed all the tournaments of the past year, as well as the future. It was a very educational meeting that lasted a good 9 hours. Then we switched to the Novotel for a typical Polish dinner and the evening (or night) ended with some typical Polish drinks. On Sunday, a walk through the city was organized and the group present was allowed to try to escape from two Escape rooms. They both succeeded (even though it was very close). On Sunday evening a closing dinner took place in a Mediterranean restaurant. On Monday morning everyone returned home. Our thanks to everyone from the staff who were able to attend, but also to the friends who were able to make time to participate in some of the activities. This shows that our group is more than just the staff. Where we are going next year remains a secret for a while... at least for the general public. We are really looking forward to seeing you all again soon and continue what our good friend Michael started: bringing the world together in sports.
Have you already taken a look at our page and applied for one of the available tournaments? Be sure to contact one of the staff if you would like more information. Click:
REFEX.org/tournaments
Together we are REFEX! <3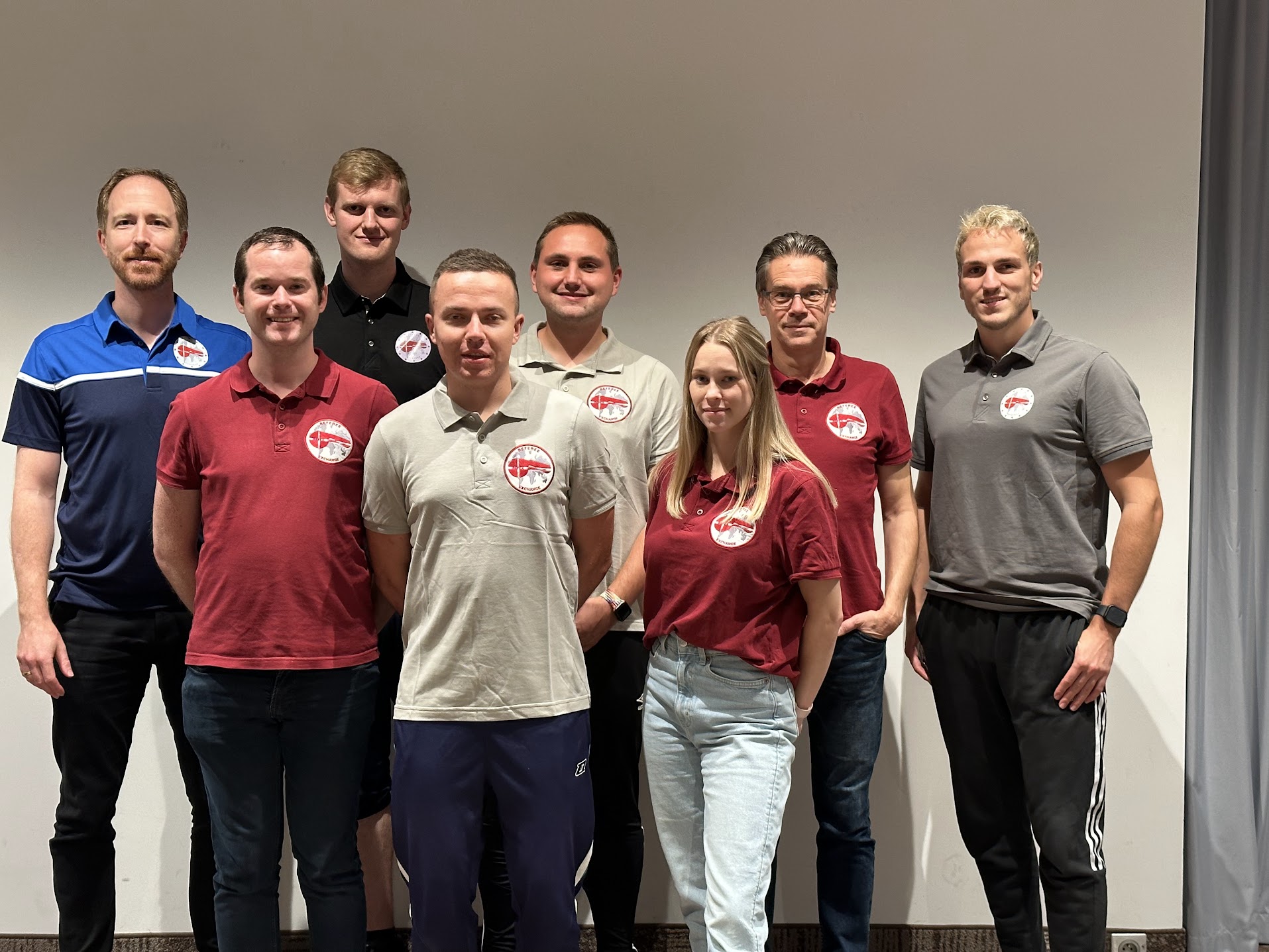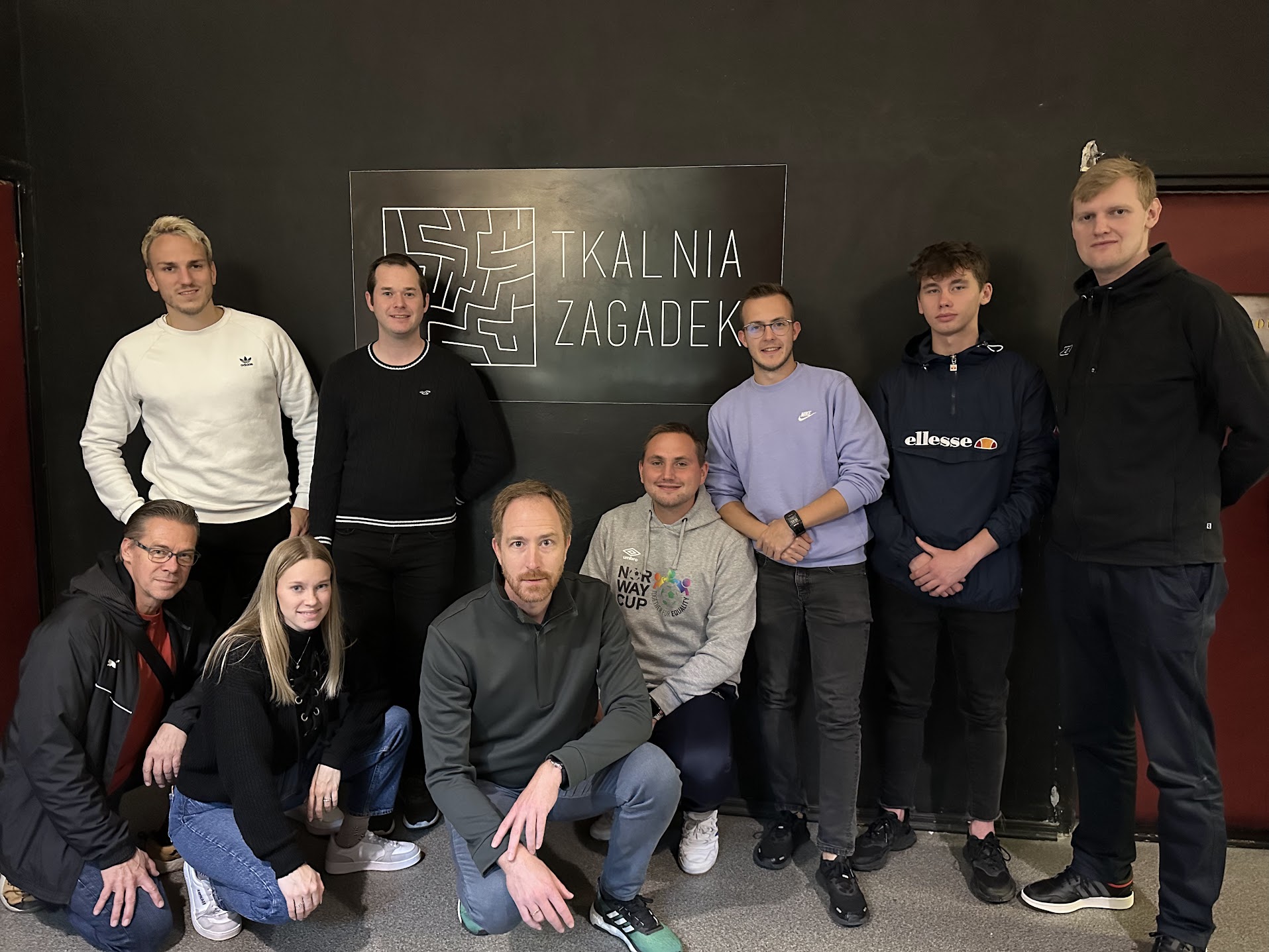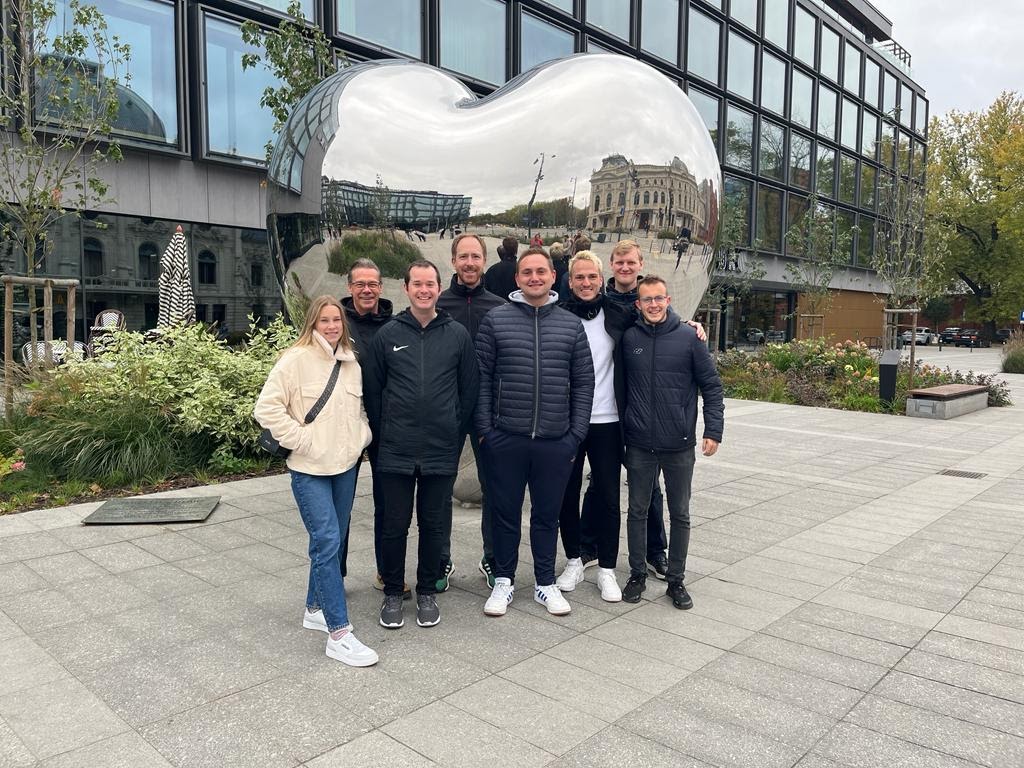 R.I.P. Michael Wiecha
(24.07.2023)
Very sad news has reached us. Michael Wiecha, well known among our friends as the man who was especially keen on going to American tournaments, is no more. Michael found his way to REFEX in 2005 with his first tournament in Norhalne and has traveled the world with us ever since. He was loved by colleagues and has also been a staff member for many years and our representative in the Berlin - Brandenburg region. Words are not enough. Thanks for everything. Thank you for letting us spend time with you in Norhalne in May. We will never forget you! <3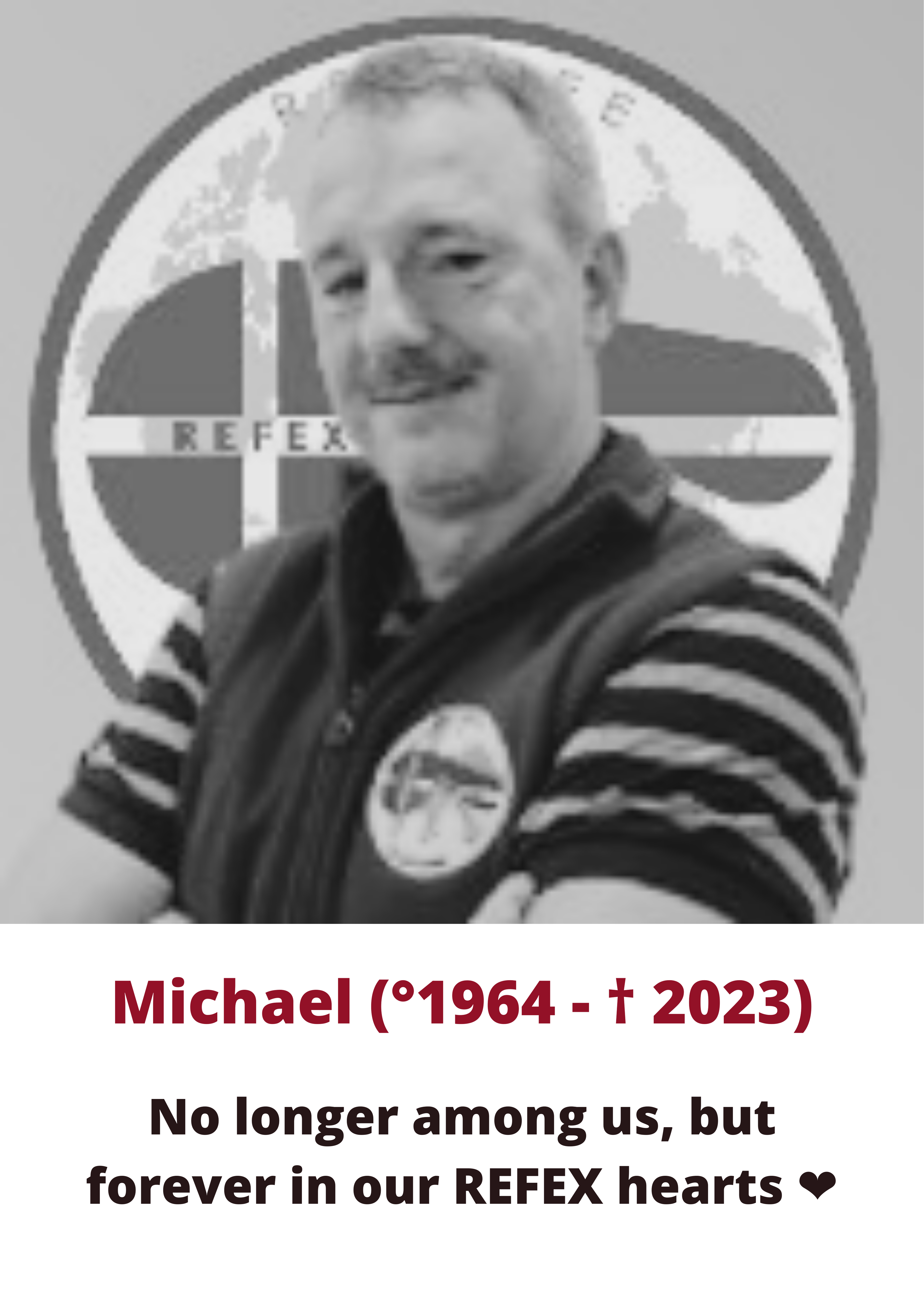 Travel with us to Iceland!
(05.04.2023)
Have you ever been to Iceland? Besides the wonderful landscape and the friendly people, the largest youth tournament in the country is organized in the capital. We would like to invite you to participate in the ReyCup. A tournament for boys, but especially where girls are also expressed. More than half are women's teams! In the coming edition, the tournament will have many national, but also well-known international names. Don't hesitate, check out our website and sign up. We promise you: at the
Rey Cup Iceland
our referees will not be short of anything. The hospitality our Icelandic friends provide, is the best you can get!
Information and applications: REFEX.org/ReyCup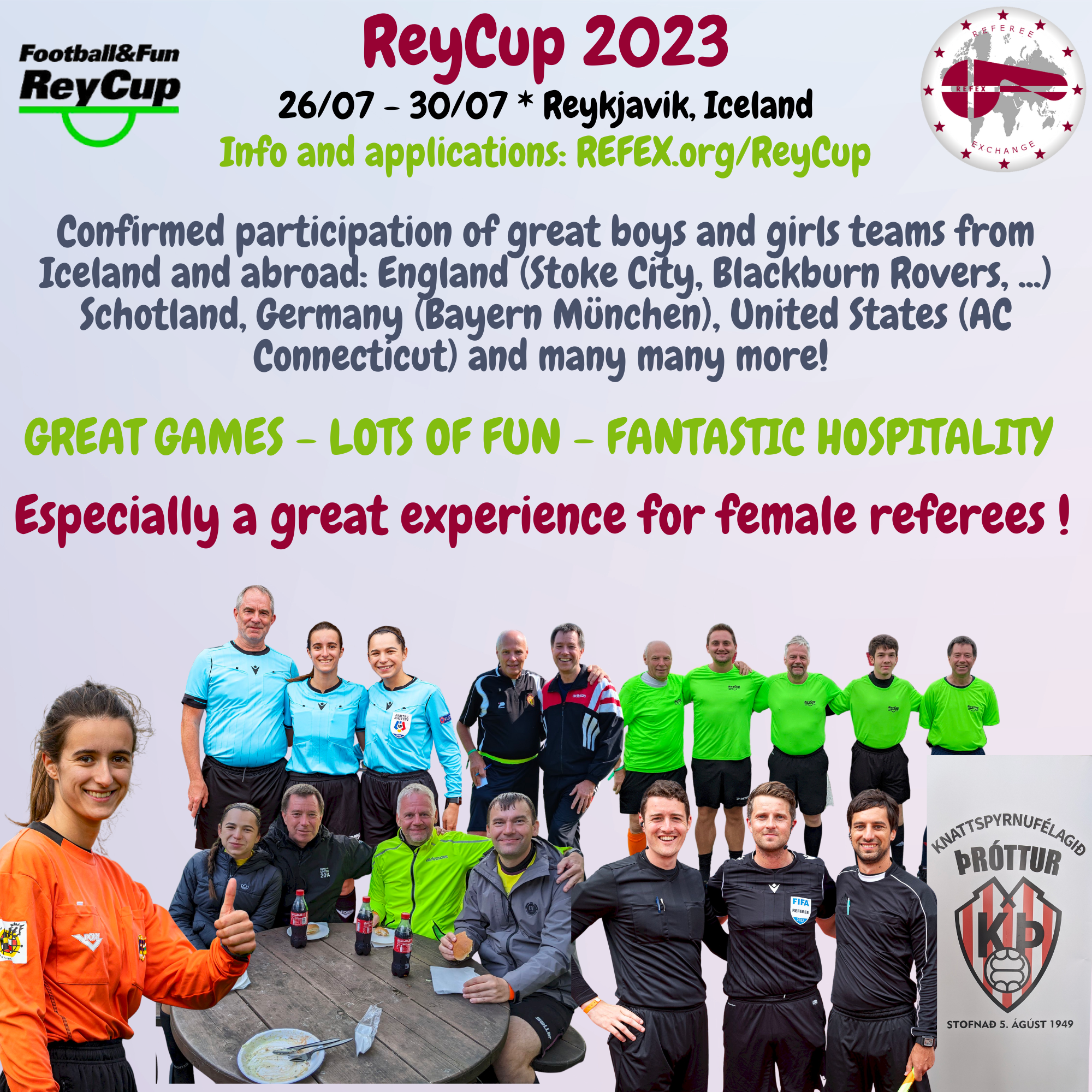 Travel with us to Norhalne!
(12.01.2023)
Sometimes pictures say more than thousands of words... Nørhalne Cup 2023 - be there best friends!
What? Nørhalne Cup 2023
Where? Aalborg (DK)
When? 18-20 MAY 2023
Happy 2023!
(28.12.2022)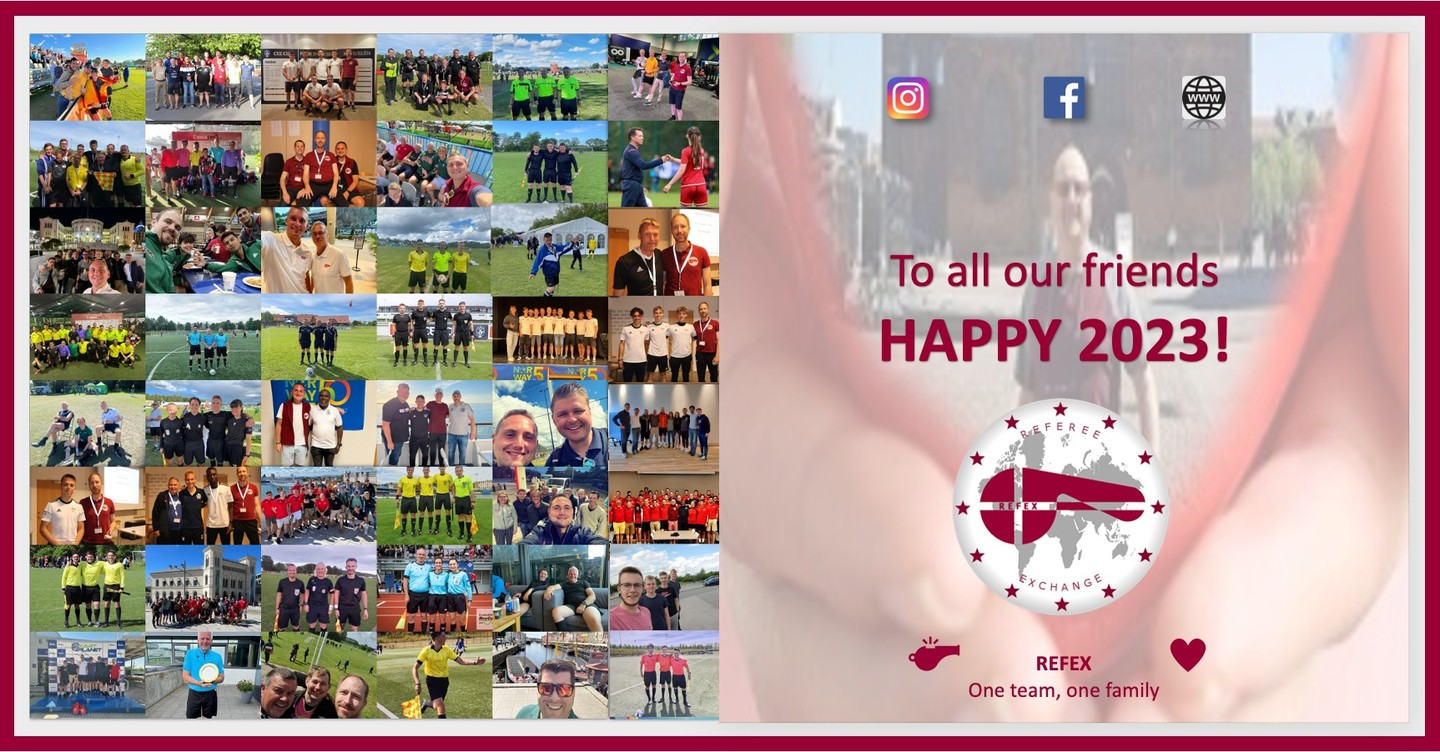 On behalf of our team, we would like to thank all our friends and sympathizers for the nice moments we were able to experience together in the past year. We are already looking forward to 2023. Happy New Year, friends! 
Michael passed away
(05.11.2022)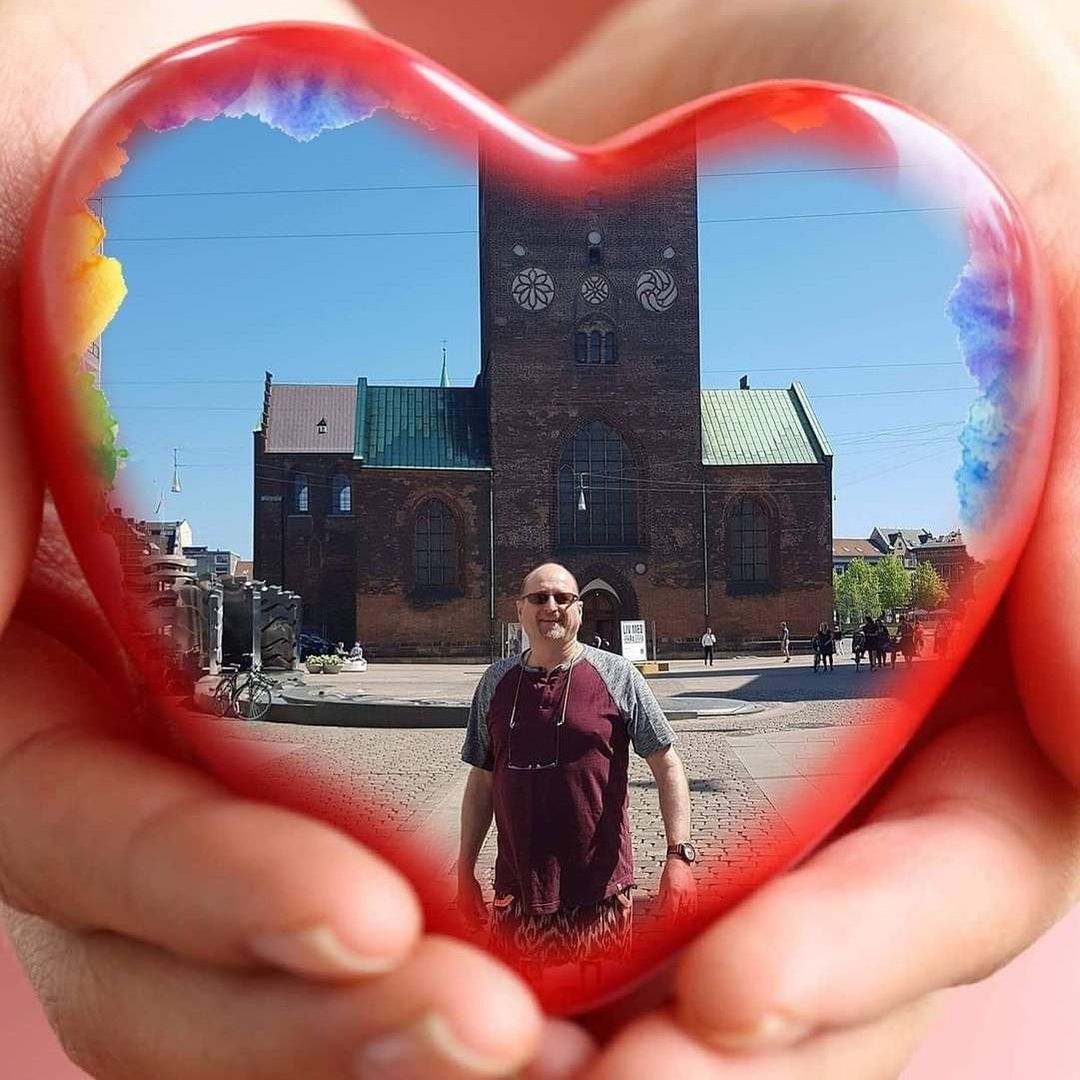 With deep sorrowness we have to state, that on Thursday 3rd November 2022 our founder and family head Michael has passed away.

After intense but short illness he has died in the arms of his family.

The REFEX staff and REFEX family will never forget him, his thoughts, his ideas and his dreams.

We will always fight for the dream to bring the world together in sports.

<3 
Apply or EuroGames '23!
(28.06.2022)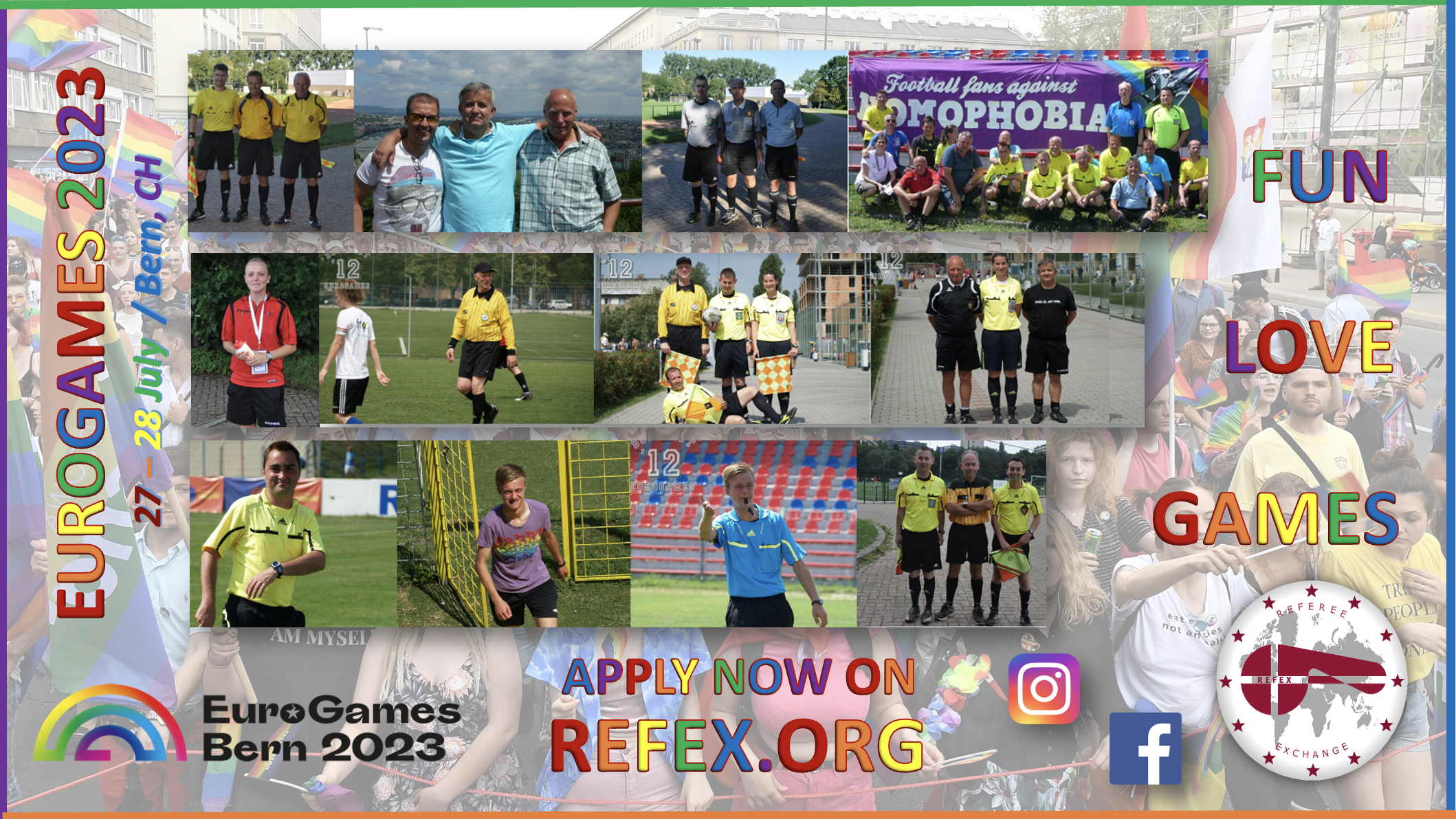 Some time ago we proudly announced that we are the only official partner of the EuroGames 2023 for the supply of football (soccer) referees from all over the world. As on many previous Out Games, we have been chosen as a safe and reliable partner for this collaboration. At this moment we can announce that applications for this fantastic event are open!
The city of Bern in wonderful Switzerland is the host of this great tournament where Pride and equality are celebrated in the LGBTQ+ community with a great sporting event. All are welcome, so come with us and be a part of it.
EUROGAMES 2023
Where? Bern, Switzerland, Europe
When? 27.07 - 28.07
Who? Everyone
Accommodation? 26.07 - 29.07
Classes? 7 vs 7 and 11 vs 11
Contact? Michael Wachowiak
USA Cup '22 is online!
(28.02.2022)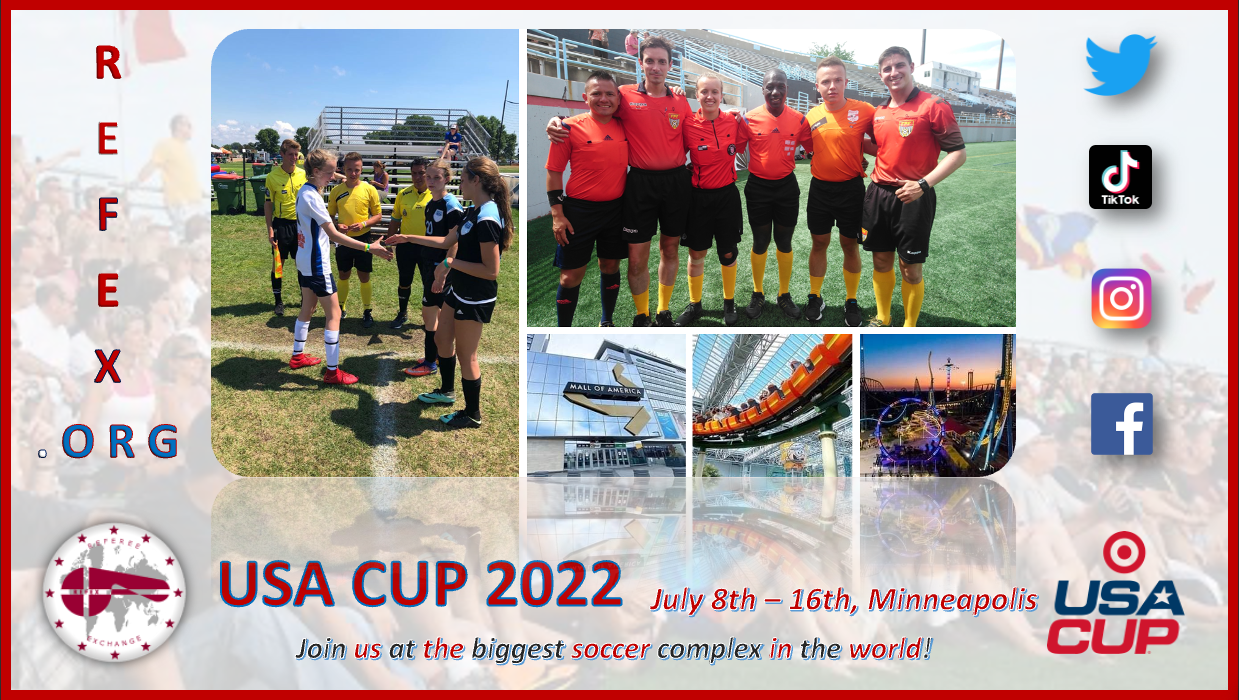 Are you ready for a new adventure? Two great tournaments in one. The first part of the tournament is from 09th to 11th, with one day break and the second part from 13th to 17th. Schwan's USA CUP is one of the largest youth soccer tournaments in the world that is held over 10 days in Minneapolis, Minnesota. The event takes place at the National Sports Center which features over 50 soccer fields in one location.
The NSC has been recognized by the Guinness Book of Records as the largest soccer complex in the world. The tournament attracts over 1,000 teams from the US and around the world. USA Cup expands far beyond the soccer field by offering many different activities and attractions such as: Mall of America, Valleyfair Amusement Park, MN United soccer game, MN Twins baseball game, Bunker Beach waterpark, and more. It is an unforgettable cultural experience that will bring memories for a lifetime. A great part of the tournament is the big opening ceremony. At the free day between the tournaments, USA Cup offers a nice day for the foreign referees to enjoy.
When? 08.07.2022 - 16.07.2022
Where? Minneapolis, Minnesota (USA)
Info and applications: REFEX.org/USACup2022
REFEX exclusive refereeing partner for EuroGames Bern '23
(09.02.2022)
REFEX and EuroGames 2023 have signed a cooperation that REFEX will be the exclusive partner for carrying out the football tournament at the EuroGames 2023.
There will be 7-on-7 and 11-on-11 tournaments for male-identified, female-identified and non-binary participants. The EuroGames Bern 2023 will take place from July 26 to July 29, 2023. 
REFEX is joining EuroGames Bern 2023 as official tournament partner for football. Michael Wachowiak and David Hofstetter, board member of EuroGames Bern 2023 signed a cooperation contract on January 29, 2022, in Bern, Switzerland. REFEX will deliver referees, refereeing experience and organization for the complete tournament.
REFEX always showed the importance of relationship, trust and diversity to the world as being the integrative partner for refereeing. REFEX itself stands for inclusion and openness and bringing the world together in sports.
«We are extremely happy to have REFEX on board with us», says Greg Zwygart, co-president of EuroGames Bern 2023.
Football at EuroGames Bern 2023 will be offered as 7-on-7 and 11-on-11 tournaments and is open to all male-identified, female-identified and non-binary participants. All gender mixed tournaments are planned as well.
Ostbärn F.C., Bern's alternative football club, and Wankdorf Junxx, the queer football fan club of Swiss champion Young Boys, have pledged their support for the EuroGames Bern 2023 football tournament.
The EuroGames – a multisport event dedicated to diversity and inclusion– will take place in Bern from July 26 to 29, 2023. Licensed by the EGLSF (European Gay and Lesbian Sport Federation), there will be approximately 20 different sports attracting an estimated 3500 athletes from all over Europe.
REFEX was the official tournament partner for the EuroGames in Budapest 2012, Stockholm 2015, Helsinki 2016, and for the World OutGames in Antwerp 2013. And so, we are very proud to be the official partner of the EuroGames 2023 again and thankful for the trust in our expertise and capabilities.
EuroGames 2023 official page: https://eurogames2023.ch/
#REFEX5DagChallenge: Holland Cup 2022
(24.01.2022)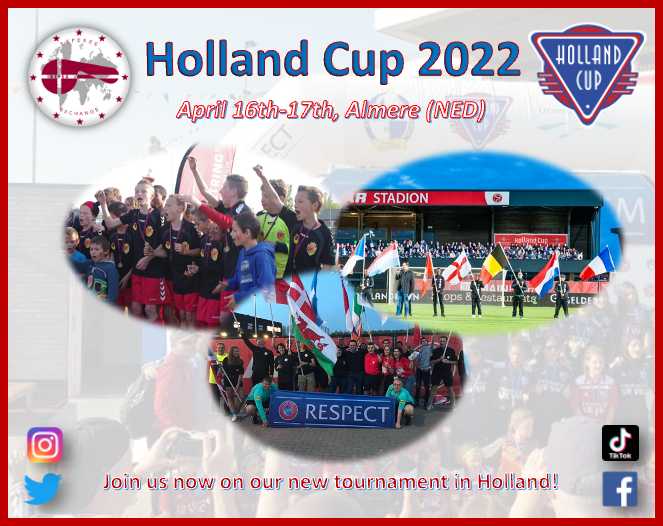 Please meet our new tournament in Holland!
What? Around 300 teams from all of Europe: now that's an international competition. With the Holland Cup, it's clear to see that football really is a world sport. Whether you're from Scotland or Italy, whatever language you speak - everyone shares the same passion. So get involved in the new edition! You'll be warmly welcomed in Almere, close to Amsterdam. The international competition takes place across four beautiful sports parks around the centre of Almere. And if you want to blow off a little steam, you can visit the nearby Johan Cruijff Arena, the home grounds of Ajax or the famous centre of Amsterdam. It'll be a thrilling weekend in April ...
Where? Almere (Amsterdam) (NED)
When? 16.04.2022 - 17.04.2022
#REFEX5DayChallenge: Brondby Cup 2022
(23.01.2022)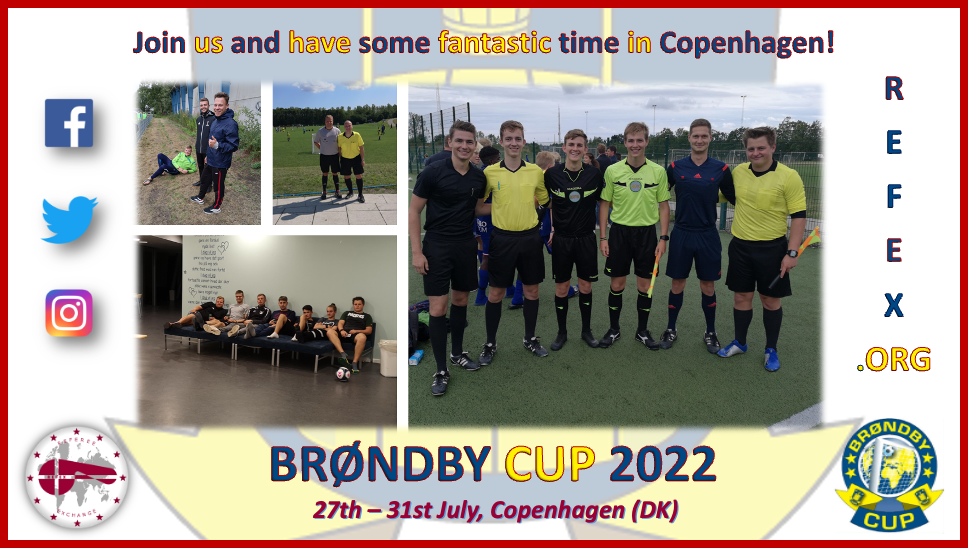 What? Good tournament, mix of different classes with three tournaments taking place in parallel:
* Elite Cup for up to EU15: Wednesday to Sunday
* Brondby Cup Denmark for all age non-elite age groups: Friday to Sunday
* Mini Cup for U9 and U10-teams: Saturday to Sunday
We are looking for ca. 12 REFEX referees + 2 REFEX observers who will stay for all 5 days of the tournament. In addition we are looking for 13 referees who want to stay for three days (arrival Thursday instead of Tuesday) for games from Friday to Sunday.
When? 27.07.2022 - 31.07.2022
#REFEX5DayChallenge: ReyCup 2022
(22.01.2022)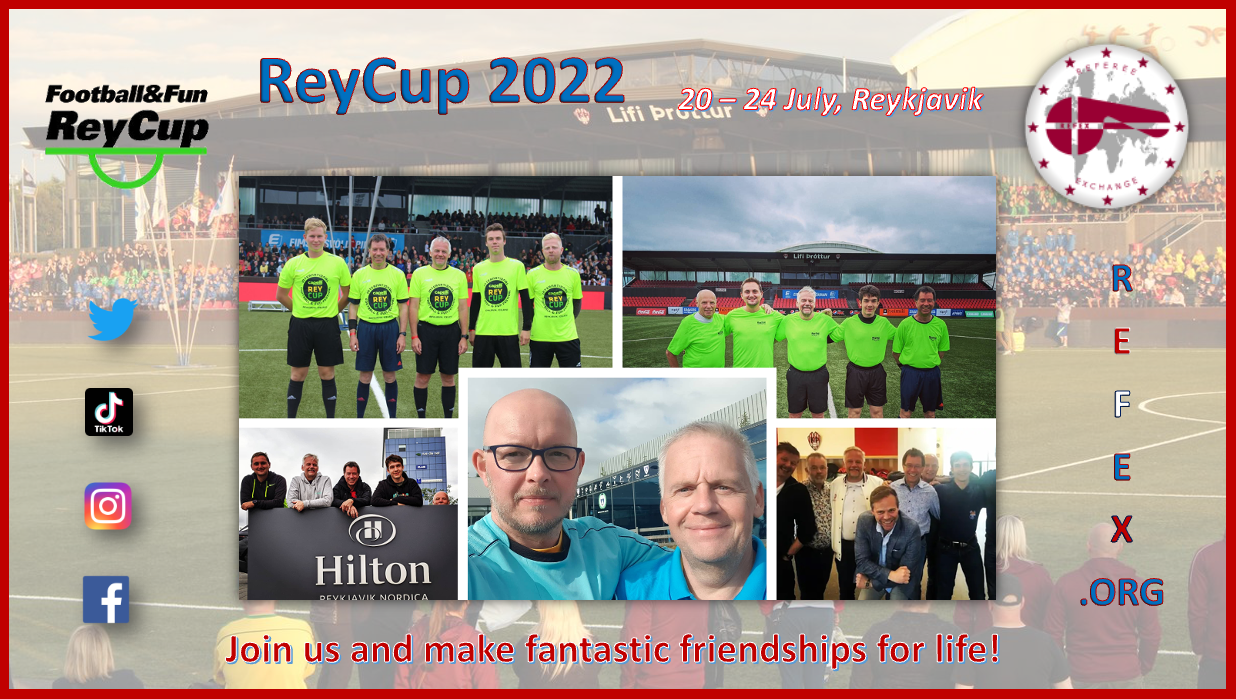 What? Make a new interesting experience by refereeing in the dual-system (2 refs on the field)! Reykjavik international football and fun festival is a nice tournament where famous teams from Iceland, England and other countries meet. It is located in the heart of Reykjavik. We are guests at a very great host, Trottur Reykjavik, a club that plays in the 2nd highest league of Iceland. We always receive a great service and hospitality there. There are several offers around the tournament to make it a fun festival too.
When? 20.07.2022 - 24.07.2022
#REFEX5DayChallenge: SingaCup 2022
(22.01.2022)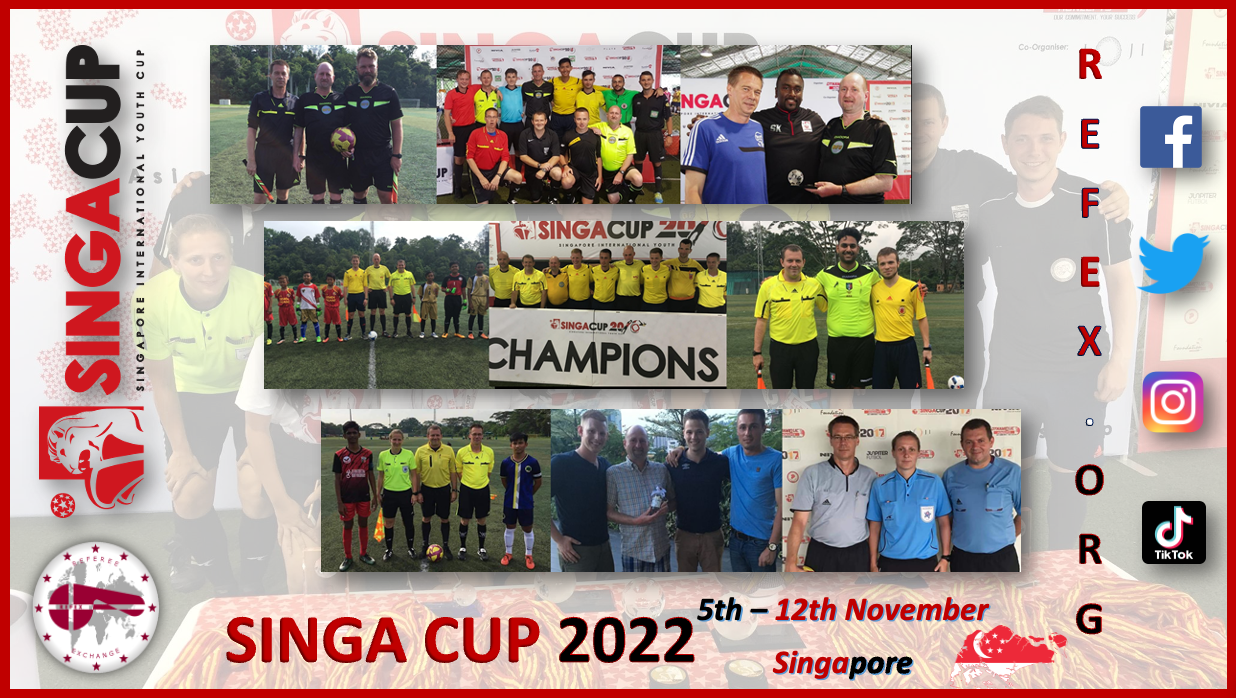 What? Our Asian pearl, the Singa Cup. Have a great time with us in Singapore. Refereeing with great people from all over the world will give you the chance to get a better view of how cooperation works in other countries. On top of that we will be in one of the most beautiful cities in the world. It will be travelling, refereeing and adventure all-in-one. We are sure you will have a fantastic experience! There are many attractions in Singapore which you can visit (Gardens by the Bay, Chinatown and the many malls and restaurants as well as Habour City where the amusement area is). It is also possible to travel in the area before or after the tournament (Kuala Lumpur, Malaysia and Phuket, Thailand is only a 1 hour flight away and there are ferries to Indonesia and the Philipines are not far away as well). We are sure our referees will have a great time in Singapore and will be able to meet fantastic people from all over the world and get the chance to learn what Asian famous hospitality is.
When? 05.11.2022 - 12.11.2022
#REFEX5DayChallenge: CEE Cup 2022
(20.01.2022)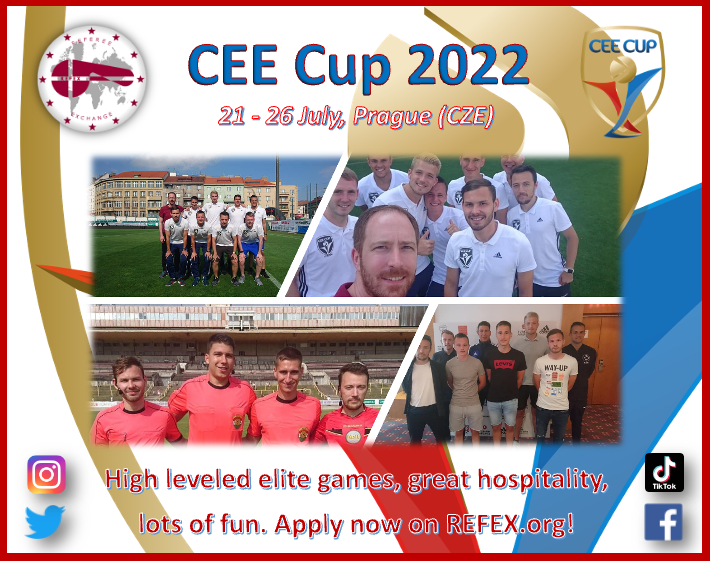 Starting from today we are, every evening, going to open the applications for one of our tournaments. Stay tuned, contact your friends, tag them, like and share our posts. The tournaments miss us, did we miss our fantastic tournaments? We are really looking forward to seeing you all again as soon as possible and doing what we love to do: refereeing games and making lots of fun. That's what we stand for!
What? Top class tournament for teams from central and eastern Europe but also famous international youth teams. This tournament is really on a top level that gives the best chance for your own refereeing development. Not only by the challenging games, but also with other top referees to learn from. There will be 15 games on 5 days being played at 2-3 fields in Prague. The games are full 90 minutes, a referee in the middle + two assistants + 4th official. The high level of the tournament requires only the best referees. Referees will have a lot of time to explore the beautiful city of Prague. 2018/2019 winner was Palmeiras from Brazil first league team.
Where? Prague, Czechia (CZE)
When? 21.07.2022 - 26.07.2022
Welcome to #RefCue
(06.01.2022)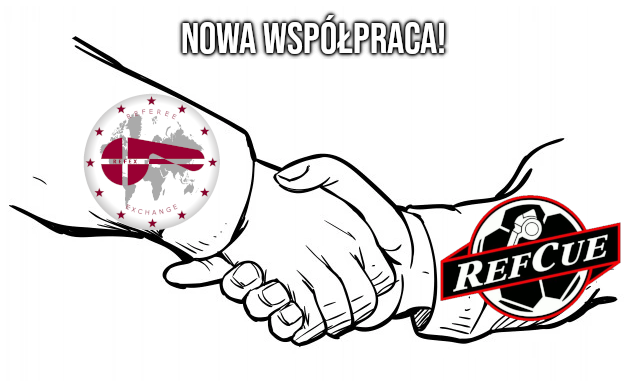 We are happy to announce a new international cooperation.Please meet RefCue, our new Polish partner!
RefCue
is an organization led by
Krzysztof Malinowski
, a highest class Futsal referee and fourth class on grass referee. Krzysiek joined our REFEX staff during the Corona period in 2021.
Who's Krzysiek? Most of you know him from the famous Nørhalne Cup. He's attending the tournament for many years now and is a fixed value. At the end of the last edition he was the main referee of the U16 Boys final in Aab. We asked him why people should choose REFEX, and: 'We are a group of refereeing enthusiasts who are open for everyone and we want to help referees improve.' was his answer. Sure we are, that's what we're trying to do.
We are already looking forward to a fantastic cooperation with Krzysiek, REFCUE and all it's referees!
#REFEX #RefCue #schiedsrichter #dommer
Bye 2021, hello 2022!
(03.01.2022)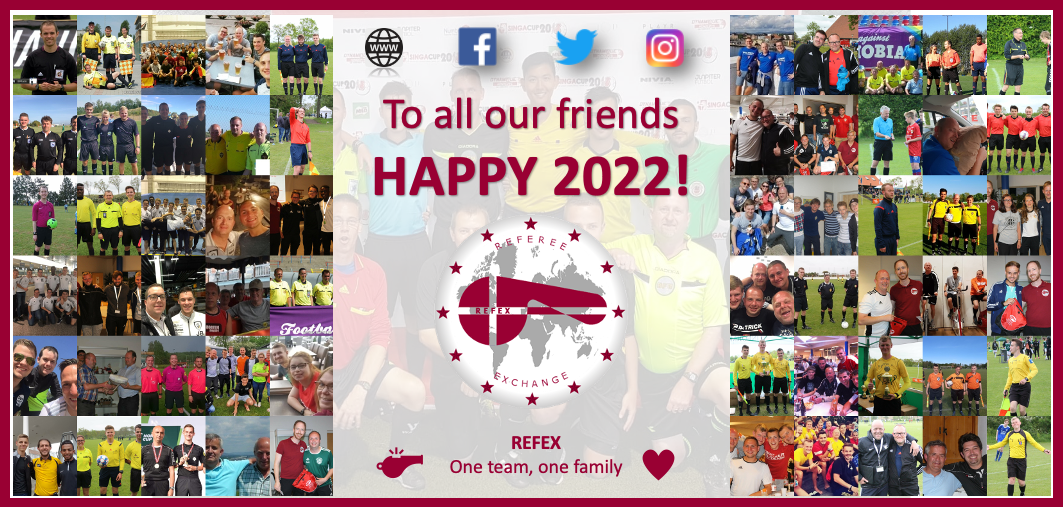 On behalf of our team, we would like to wish all our friends and sympathizers all the best in 2022. We're looking forward to having fun with you on one of our tournaments. Happy New Year, friends! 
#REFEX #OneTeamOneFamily 
Welcome to Norway Cup!
(03.12.2021)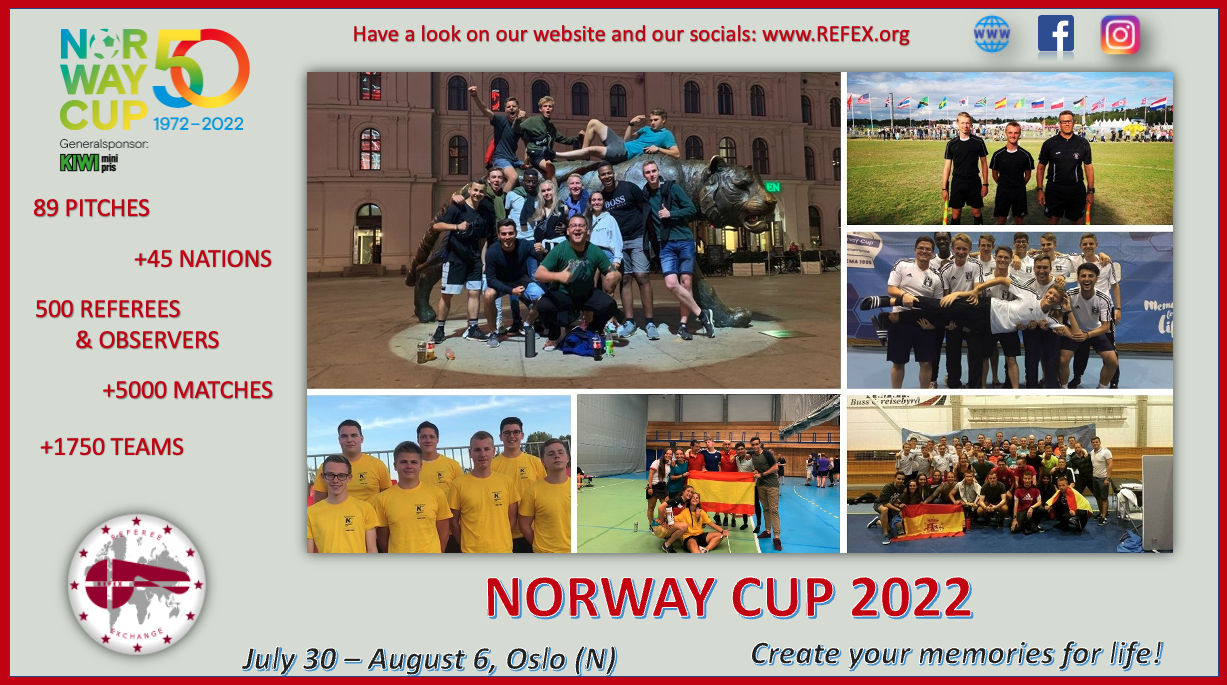 We are happy to announce that we opened the applications for the biggest youth tournament in the world!
NORWAY CUP 2022 (Oslo, Norway)
° July 30 - August 6 2022
Welcome to Norway Cup, the biggest youth tournament world wide. You'll meet teams and referees from all over the world. From arrival till departure you'll be able to referee games, make friends and have fun at Ekeberg area. Don't hesitate and make an application for this fantastic tournament and travel with us to Oslo to write your own fantastic memories for life!
NørhalneCup 2022: applications are open!
(26.11.2021)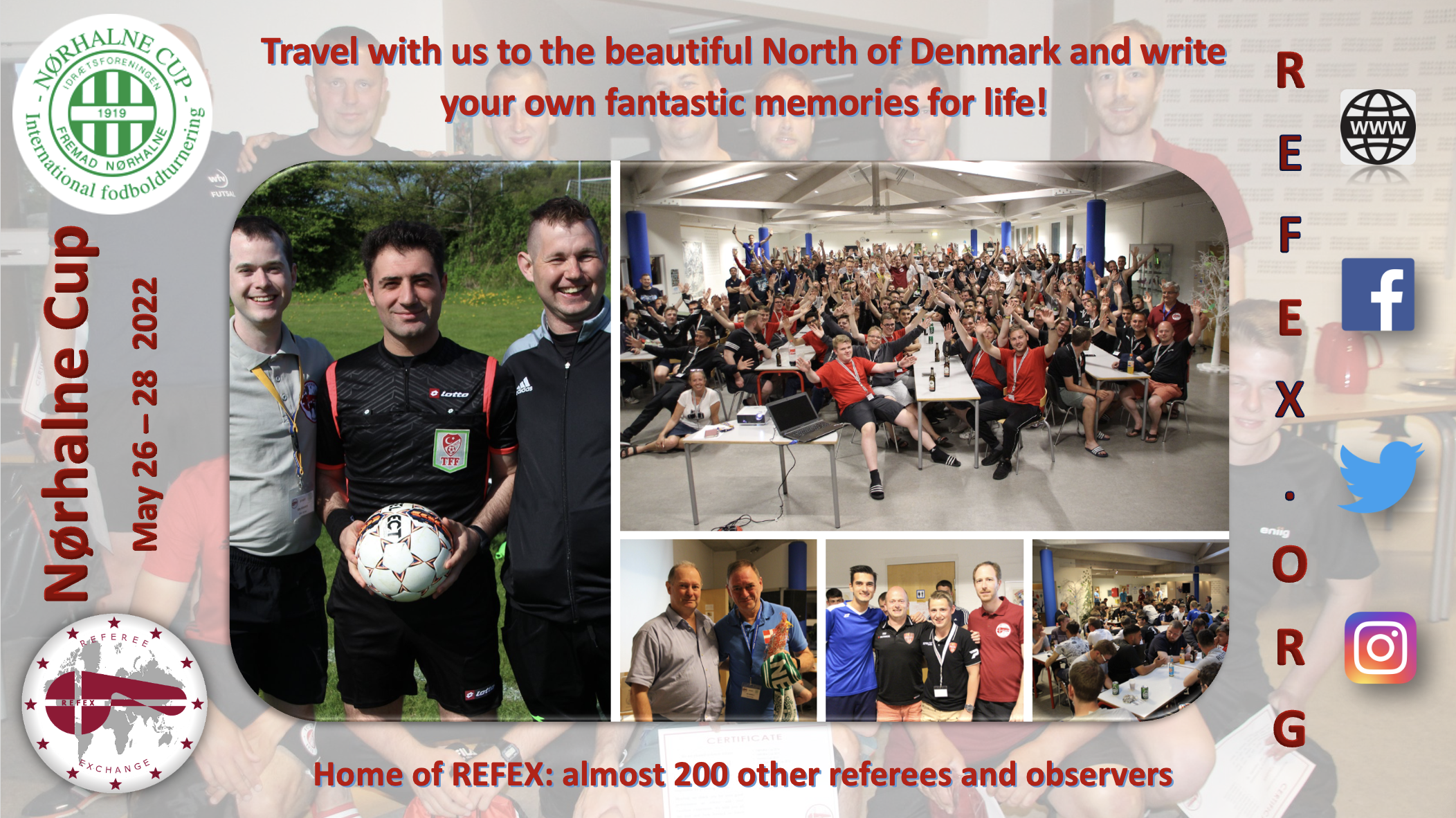 We love to announce that we opened the applications for our 'Home' tournament.. Let's travel with us to the beautiful Denmark, create memories for life and make fantastic (international) friendships!

NORHALNE CUP 2022 (Aalborg area, Denmark)
° May 26-28, 2022

Presenting you the 3rd biggest tournament in Denmark with about 550 youth teams and more than 1900 games in elite classes and amateur classes. It's a good experience especially for younger referees who want to gain more experience and qualified feedback. The referees will officiate matches in a team or alone.

Info and applications: REFEX.org/NorhalneCup and NorhalneCup.dk

#REFEX #NørhalneCup #NørhalneCup2022 #Nørhalne2022
COVID-19
(10.11.2021)
REFEX strongly recommends that referees are fully vaccinated when participating in our international tournaments. 
This underlies our vision of being the strong link between referees and tournaments based on:
•RESPECT to our partners (including the tournament organisers, supporters and volunteers)
•RESPECT to the participants in the tournaments
•RESPECT to our friends, the other referees
•TRUST that participating in a REFEX tournament is as safe as possible
We consider that vaccination helps to ensure the ultimate referee experience for all, including meeting new and existing referee friends at our international tournaments.
Whether you have been vaccinated or not, please recognise that there are still significant risks of infection and you should only apply for one of our tournaments if you feel comfortable in participating.  
We also recommend that all referees take a self-test before attending one of our tournaments.  Please do not attend if you have any Covid-19 symptoms or have a positive test outcome.
Vaccination is, based on science and advised by the WHO, key to protect yourself and others against the virus, the disease and a strong course of illness.
Thx to all the female referees. #IWD21
(08.03.2021)



Happy International Women's Day. Thanks to our female referees!
Annual meeting for the staff and management
(08.02.2021)
Due the COVID situation in the world, and with all non-essential travel discouraged, our management and staff organised their yearly meeting online using Teams. Diversity is very important, and this is reflected in our staff group, which consists of people from different countries (USA, UK, GER, DK, BEL, POL, SVK, ESP) in different time zones. One of our members even attended the meeting at 5am in their local time! Our general manager Oliver welcomed our new staff members (who will present themselves in the next few weeks) who joined our staff family, we talked about our social media and discussed some updates about our tournaments. The tournament leaders will keep all referees who applied for their tournaments informed and general information will be shared on our website and socials.

We are really looking forward to seeing you very soon and seeing you doing what you love - having fun and refereeing!

P.S. We have already added some tournaments and opened the applications. Some other tournaments will be added in the next few weeks.
Covid-19 Situation
(20.01.2021)
With the situation given, we are in deep contact to the tournaments about Covid. Still the, and we, are facing lots of challenges about the planning, daily changes about rules, infaction rates and so on.

So, by today, we can not state much about the overall hygien plan of each tournament and there will not be a general one.

We believe that the summer tournaments have a bigger chance to be held, and that the early tournaments must do much more fpr hygiene.

For each tournament we are preparing us in cooperation with the tournament and we will inform the referees applied for the tournament directly, instead of posting something different here each day.

In case we have to cancel a tournament due to the Covid 19 situation, we will refund the paid tournament or yearly fees, but does not include any travel or accomodation cost.

WE hope this works for you. If you, additionally have any questions, please contact your local REFEX partner or tournament responsible.